---
---
Wednesday, November 26
Overhaul of Tribunal and MRP results in common sense reasoning of charges; demerit points axed


The AFL has overhauled its controversial tribunal system, saying the changes will make it more simple.

Roger Vaughan of AAP reports: The League has abandoned the use of base demerit points, with offences to be categorised as suspensions or fines.

There will also no longer be any carryover points for any offences.

Rather than rate conduct in any offence as negligent, reckless or intentional, the Match Review Panel will now rule whether it is intentional or careless.

The current system had been in place since 2005 and was becoming increasingly unpopular because of inconsistent rulings and penalties.

The MRP will now issue fines and two or three-game suspensions.

More serious cases will be referred directly to the tribunal.

The bad record provision will be made more simple so a player will receive a maximum of an extra game on his penalty.

Players can still take discounts for early pleas, a key feature of the old system.

A player's eligibility for the Brownlow Medal will now rely on whether he was suspended during the season.

There will also be more fines for low-level offences, but the match review panel can suspend repeat offenders in a season.

"The AFL has been examining the MRP process for more than 12 months, and our focus has been to retain the excellent parts of the system while simplifying its operation and ensuring that appropriate penalties are in place for offences," said AFL operations manager Mark Evans.

Jon Ralph in the Herald Sun details the changes –

KEY POINTS



No more complicated demerit points, just penalties of weeks' suspension or fines



Just two gradings systems – careless or intentional – rather than the three confusing gradings



The MRP uses a simplified tick-the-box system but can send reports to the tribunal if ban doesn't fit the crime.



All low-level incidents which once drew 125 points (reprimand with guilty plea) now replaced by $1500 fine.



Any MRP charge with a suspension over three weeks goes direct to the tribunal



Players must be suspended to be ineligible for the Brownlow, so can be fined for tummy taps and border-line hits and still win it.



Players still get a week discount for a guilty plea and still get an extra week for a bad record



Accidental head clashes are now not automatically reportable, with discretion for the MRP to let players off

ACCIDENTAL HEAD-TO-HEAD CONTACT



In 2014 a player who bumped was responsible for any contact he made, even in an accidental head clash.



In 2015 the MRP and tribunal has discretion to allow a player to escape penalty and has six factors to consider.

They are:



The degree of force



If the bumped player was actively involved in play?



How far the player who bumped ran to make contact?



Could the bumped player protect himself?



Did the bumping player leave the ground?



Was there an alternative for the player who bumps?
Wooden-spoon Saints suffer huge loss on 2014


The Age reports: St Kilda have reported a financial loss of $2.4 million for the year – double the loss of last year.

The Saints have declared a loss of $2,354,583 but after write downs have recorded a loss of closer to $4million ($3,912,922) for 2014. Last year the Saints lost $1.2million which after write downs was $2.6million – more ...

Yahoo! Sport reports Fremantle midfielder Nat Fyfe will undergo shoulder surgery later this week, ruling him out of the early part of the Dockers pre-season after his injury last week at training.
The 23-year-old has a history of problems with his left shoulder, but the Dockers are hopeful the injury to his right shoulder won't cause future problems.



Caroline Wilson in The Age reports Mark Thompson's $30,000 fine has been settled with the AFL with Essendon meeting the bulk – more ...

There's always another story ...
Tuesday, November 25
Bye-bye to Homebush?
Swans sign 30-year deal with SCG


The Sydney Swans will play all their AFL home games at the Sydney Cricket Ground from 2017 onwards in a 30-year agreement announced on Monday.



The ABC Sport webpage noted the Swans have cited the "mythical" significance of the ground and increasing development of the Moore Park precinct as reasons for the deal.

The agreement means the Swans will no longer play at the Olympic Stadium at Homebush Bay, which launched a $350 million redevelopment bid last week.

"It's a matter we've been considering as a board for a number of years," Swans chairman Andrew Pridham said.

"It's been very clear to us that over the last number of years that the vast majority of Swans members and fans have shown strong encouragement to play all our games at the SCG."

The Swans have hosted big-drawing home and away matches and finals at the Olympic Stadium since 2002. Their record Homebush crowd of 72,393 when Collingwood played Sydney on August 23, 2003 will remain as the largest crowd for an Australian Football game outside of the MCG.

Pridham also said he expected the new deal would also encompass finals matches, pending approval from the AFL.

Sydney coach John Longmire welcomed the deal to play exclusively at a venue which was very popular with the playing group.
Cancer strikes Mark Williams


Richmond senior development coach and former Port Adelaide AFL 2004 premiership-winning mentor Mark Williams has been diagnosed with lymphoma.

In a statement on Monday, the Tigers said following recent tests, 56-year-old "Choco" Williams would begin treatment shortly, while continuing to carry out his coaching role at the club.

The Tigers said Williams would not make any further comment during this time and the club asked that his privacy and that of his family be respected.

He was assistant coach of the GWS Giants in Sydney before moving to Richmond in 2013 to work with head coach Damien Hardwick.

Williams played 201 VFL-AFL games (1981-90) and is a former Collingwood captain and Brisbane Bears player.

St Kilda skipper Nick Riewoldt has signed a one-year contract extension which will see the 32-year-old's 281-game AFL career with the Saints continue until at least the end of 2016 ...

Hawthorn has appointed Melbourne great David Neitz as a specialist key-position coach, a week after Danny Frawley quit a similar position at the Hawks to rejoin his old club St Kilda – the 39-year-old Neitz played 306 games (1993-2008) and kicked 631 goals for the Demons ...
Sunday, November 23
International Rules, Australia v Ireland


Aussies strong effort to down Ireland 56-46

Australia overcame a case of the third-quarter wobbles to post a 10-point victory over Ireland in Saturday night's International Rules clash at Subiaco Oval in Perth.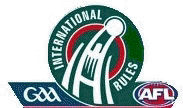 In front of a near sell-out crowd of 38,262, the AFL's cream of the crop were on track for an easy victory after opening up a 41-8 advantage early in the third quarter.

But a goal to Ireland's Darren Hughes – the first of the match – brought Ireland roaring back into the contest, with the visitors slamming through five consecutive overs to reduce the margin to just 13 points late in the term.

Justin Chadwick of AAP for Yahoo! Sport reported: Ireland kept pushing in the final quarter, and an own goal to Sydney defender Nick Smith gave the visitors a late lifeline.

But a brave save from Australian goalkeeper Dustin Fletcher in the final minute sealed the 0.17.5—56 to 2.9.7—46 win.

With only past or present All-Australians considered for selection this time around, the home side's rampant opening half was enough to get them over the line.

Australia's win gave them victory in the one-Test series, with the ledger now tied at 9-9.

Geelong ace Steve Johnson was crucial early and finished with four overs from 24 possessions, while Nick Riewoldt (three overs), Chad Wingard (three overs), Sam Mitchell, Leigh Montagna and Jarrad McVeigh also starred.

But it was Hawthorn skipper Luke Hodge who shone above everyone, with the veteran midfielder winning the Jim Stynes medal as the best Australian player.

Ruckman Nic Naitanui struggled to get into the game as a forward, but the 201cm jumping machine won every ruck tap he contested.

Irish veteran Sean Cavanagh, playing his 13th International Rules match, was prominent with a team-high 20 touches, while AFL star Pearce Hanley also featured strongly.

Forward Conor McManus finished with four goals to take out his team's award.

Ireland were meant to boast the superior kicking skills, but it was Australia who boasted the deadly edge in front of goal for most of the game.

Ireland controlled proceedings for much of the second half, but the early damage inflicted by Australia proved too much to overcome.

Australian coach Alastair Clarkson was proud of his team's effort, but said it was hard to compare the experience to the three premierships he had won at Hawthorn.

"It's enormously satisfying," Clarkson said.

"I'm going to have many great memories from my involvement in this series. The success tonight means we can play more of these series in years to come."

Ireland coach Paul Earley said his side's poor skills hurt them.

"We were uncharacteristically wide with our kicking. We didn't hit our targets up front," Earley said.

"Australia were incredibly accurate in front of goal. They kicked some fantastic overs in that first term."

2014 – FIRST TEST – INTERNATIONAL RULES
Australia v Ireland
Saturday (n), November 22, 2014
at Subiaco Oval, Perth
Crowd: 38,262
1/4 time
1/2 time
3/4 time
Final
AUST
0.7.1-22 (19)
0.11.2–35 (28)
0.14.4–46 (16)
0.17.5–56 (10)
IRE
0.1.1–3
0.1.4–7
1.6.6–30
2.9.7–46
SCORERS – Australia: Overs (3pts): Steve Johnson 4, Nick Riewoldt 3, Chad Wingard 3, Jarrad McVeigh 2, Brent Harvey 1, Robbie Gray 1, Joel Selwood 1, Kieran Jack 1, Luke Breust 1.
Ireland: Goals (6pts): Darren Hughes, team score. Overs (3pts): Conor McManus 4, Colm Begley 2, Mattie Donnelly 1, Kevin McKernan 1, Michel Murphy 1.
Best: Australia: Luke Hodge, Sam Mitchell, Steve Johnson, Nick Riewoldt, Jobe Watson, Dustin Fletcher.
Ireland: Conor McManus, Colm Begley, David Moran, Michael Murphy, Mattie Donnelly.
Jim Stynes Medal: Luke Hodge.
GAA Medal: Conor McManus.

THE TEAMS:
Ireland: Colm Begley (Laois), Colm Boyle (Mayo), Seán Cavanagh (Tyrone), Cathal Cregg (Roscommon), Mattie Donnelly (Tyrone), Finian Hanley (Galway), Pearse Hanley (Brisbane Lions), Darren Hughes (Monaghan), Lee Keegan (Mayo), James McCarthy (Dublin), Ciaran McDonald (Tipperary), Neil McGee (Donegal), Chrissy McKaigue (Derry), Kevin McKernan (Down), Kevin McLoughlin (Mayo), Conor McManus (Monaghan), David Moran (Kerry), Niall Morgan (Tyrone), Ross Munnelly (Laois), Michael Murphy (Donegal, captain), Colm O'Neill (Cork), Pádraig O'Neill (Kildare), Paddy O'Rourke (Meath), Aidan O'Shea (Mayo), Aidan Walsh (Cork, vice-captain).

Australia: Grant Birchall (Hawthorn), Travis Boak (Port Adelaide), Luke Breust (Hawthorn), Patrick Dangerfield (Adelaide), Dustin Fletcher (Essendon), Nat Fyfe (Fremantle), Brendan Goddard (Essendon), Robbie Gray (Port Adelaide), Brent Harvey (North Melb), Luke Hodge (Hawthorn), Kieran Jack (Sydney), Steve Johnson (Geelong), Jarrad McVeigh (Sydney), Sam Mitchell (Hawthorn), Leigh Montagna (St Kilda), Nic Naitanui (West Coast), Nick Riewoldt (St Kilda), Tom Rockliff (Brisbane), Joe Selwood (Geelong, captain), Brodie Smith (Adelaide), Nick Smith (Sydney), Harry Taylor (Geelong), Jobe Watson (Essendon), Chad Wingard (Port Adelaide).

Umpires: Duffy (Ireland), Meredith (Australia).
Saturday, November 22

Nathan Fyfe will miss tonight's International Rules Test against Ireland at Subiaco Oval after scans showed a strain to his right shoulder suffered in the dying moments of a practice match on Tuesday. The 23-year-old has escaped serious damage but needs to be nursed across the pre-season ...

Robert Murphy will enter his 16th AFL season as captain of the Western Bulldogs ... in spite of the turbulence of the season, Essendon will post a profit of $721,517 (see sidebar) ...

Richmond will head into the new season with a healthy profit of $1,329,530 from 2014 ...

Reader Paul Carter from Stanhope Gardens NSW has offered an update to our story from last Thursday (20th) on the Richmond players from the 1967 premiership team. In addition to the passing of Fred Swift in 1983, two other Tigers have passed on, Mike Patterson died on April 16, 2002, and Geoff Strang died on December 20, 2003.
Thank you Paul for correcting our piece.
Thursday, November 20
Essendon champion Ted Leehane passes away


Essendon FC is mourning the passing on Monday of three-time premiership player Ted Leehane at the age of 91.

Leehane played 83 games for the club between 1942-1950 and was a member in the 1942, 1949 and 1950 premiership teams.

A fast moving, high marking centre half-forward and full forward he combined well with goal kicking champion John Coleman in the 1949 and 1950 premiership sides.

Runner up in the 1948 Best and Fairest award, he also won the most unselfish player award in 1950 and was the club's leading goal kicker in 1947 with 50 goals.

The Leehanes were a strong football family. Ted Leehane's brother, Tom, played seven games for Essendon (1950-1951), and their father, Steve, played 82 games for Carlton (1914-1919).

Ted was the last surviving member of the club's 1942 premiership team. He was named at number 49 in the Champions of Essendon list released in 2002 – more ...

Peter Coatman, a long-time Footystats reader and well-known for his support of the Essendon FC contributes that Carlton's Ken Hands became the longest-ago premiership player, with the death of Alex Way earlier this month making Ken the last survivor of Carlton's victorious team in the 1945 'Bloodbath' Grand Final.

Essendon's longest-living premiership survivors are now Jack Jones and Harold Lambert from the 1946 team.

As far as Peter is aware, the 1967 Richmond premiership team has lost three players – Fred Swift in 1983, Mike Patterson died on April 16, 2002, and Geoff Strang died on December 20, 2003. The 1973 Tiger flag-winners is the longest-ago premiership team and are all with us. The 1994 West Coast side is the most recent premiership team of which at least one member has died, Chris Mainwaring.
Wednesday, November 19
Anti-Doping Tribunal set for December 15


The Essendon supplements saga finally has a hearing date, though it's unclear whether media will be allowed inside.

Ben McKay and John Salvado of AAP reported for Yahoo! Sport: The AFL Anti-Doping Tribunal has tentatively set aside December 15 to hear the case against 34 players accused of taking banned substances.

A three-hour meeting of the tribunal on Tuesday couldn't resolve the question of privacy for the past and present Essendon players – more ...
$350m plan to roof Olympic Stadium at Homebush


A $350 million redevelopment plan for a fully-roofed Olympic Stadium at Homebush would enable spectators to sit within five metres of the action, with new grandstands turning Sydney's biggest venue for rugby, rugby league and soccer into a true rectangular ground.

Under the ambitious plan detailed by News Corporation dailies on Monday, the upgrade would surround the 15-year-old stadium with a dynamic entertainment zone filled with bars, cafes and restaurants.

AFL comments on the upgrade are expected.
Seven Network to cover VFL matches


VFL football will return to Channel Seven in Melbourne with the network confirmed as its new free-to-air broadcaster.



Matt Thompson on the AFL webpage details that under the two-year contract Seven will broadcast the 'match of the round' live every week as well as most VFL finals and the Grand Final.

It's understood the games will be shown on the network's main channel, most likely as a lead in to either Saturday or Sunday afternoon AFL broadcasts.

Some VFL matches will move forward to accommodate the telecasts.

"We're thrilled to be broadcasting more live football to Victorians and adding to our blue-chip AFL and sports portfolio, while complementing our local grassroots football initiatives," Channel Seven Melbourne managing director Lewis Martin said.

The deal signals an end to long running VFL broadcasts on the ABC who are unable to continue their coverage following savage financial cuts by the Federal Government.

"The televising of Peter Jackson VFL games on Channel Seven will provide an enormous boost to the profile of the VFL competition, the participating clubs and the many young and exciting players that play each week in the VFL," AFL general manager community football operations Grant Williams said.

"AFL Victoria would like to sincerely thank Lewis Martin and his team at Seven along with Simon Lethlean and the broadcasting group at the AFL who have helped manage the development of this partnership which will see the free-to-air broadcast of a weekly VFL game on Channel Seven."
Stephen Milne fined $15,000


Former St Kilda player Stephen Milne has been fined $15,000 but avoided a conviction for indecently assaulting a woman 10 years ago.

The ABC Grandstand Sport webpage reported the ex-St Kilda forward admitted to indecently assaulting a 19-year-old woman at a teammate's house following a drunken night out in 2004.

Victorian County Court Judge Michael Bourke on Tuesday described the incident as a non-violent but physical sexual act.

He said both the victim and Milne had suffered due to the decade-long delay in bringing the matter to court, and described Milne as a different and far more mature man than at the time of his crime.

The court heard the last decade had been extremely stressful for 34-year-old Milne and his family.
MCC stems energy consumption with Siemens


Melbourne's grand old lady of sporting events, the MCG, the 160-year-old stadium has been quietly undergoing an $8 million technology upgrade designed to transform it into a hub of energy efficiency.



Paul Gilder in The Herald Sun noted: When completed in June, the works will allow the MCG to generate enough environmental savings annually to power 835 homes or run its light towers for nearly six years.

The Melbourne Cricket Club hierarchy has enlisted global engineering giant Siemens to provide its technological and gadgetry expertise on the project, aimed at reducing the venue's carbon footprint by a fifth.

The works are focused on reducing the energy bill within the ground's 30-odd function rooms and many back offices.

They include: replacing 12,000 existing 50-watt halogen lights with 12-watt LED alternatives; installing a smart building management system, so that the heating and cooling of certain rooms can be aligned with the stadium's booking schedule; and new water chilling systems.

MCC chief Stephen Gough said the venue was aiming to offset the cost of the upgrade within seven years through the expected drop in energy consumption.
Updated files
The following files are among the updates –


All–Time Attendances, by club


14,580 games, Played–W–L–D


One-Point results, 321 of them


Draw, 152 tied results


Coaches – every club, every game


200-Game Coaches, 1902–2014


Finals Attendances, 1898–2014


Membership numbers, 1985–2014


Pre-season and practice matches

Worth attention ...
Key news web sites to follow ...
AFL.com.au – more ...
The Age, Real Footy – more ...
Herald Sun – more ...
Yahoo! Sport – more ...
---
Worth attention:



AFL Tables, the ultimate in footy facts – more


Rogers amazing AFL footy facts – more ...


The authorative VFA history 1877-1995 – more ...


Draw 2014 – more ...



Bruce Kennedy – Perspective – more


Charles Boyles amazing photo collection – more


Management of Concussion in football – more ...


Laws of the Game charter – more ...



Worth repeating – more – key articles of 2014 interest
---