Round 19
Thu-Fri-Sat-Sun, July 31, Aug 1-2-3

1
Thursday (n)

Subiaco, 8.10

Fremantle v Carlton
2
Friday (n)

SCG, 7.50

Sydney v Essendon
3
Saturday

Adelaide Oval, 1.40

Adelaide v West Coast
4
Saturday (n)

MCG, 4.40

Richmond v GWS Giants
5
Saturday (n)

Docklands, 7.40

North Melb v Geelong
6
Saturday (n)

Carrara, 7.40

Gold Coast v St Kilda
7
Sunday

Docklands, 1.10

Melbourne v Brisbane
8
Sunday

York Park, 3.20

Hawthorn v West.B'dogs
9
Sunday (n)

MCG, 4.40

Collingwood v Port Adelaide

all times shown are Eastern
Round 19 – Bruce Kennedy's *Stats* & *Facts* of the matches
Round 19, Coaches, Head-to-head
The Best of Round 19 – all the records
*Match Review*– The Stats that Matter
Stats Update from every round of 2014
---
— 93 from 152
FRE
SYD
ADE
RCH
GEE
GC
BRI
HAW
PA
---
Venue performances, all clubs ... more
---
Round 18 – *Match Review*– The Stats that Matter

Blues show their worth as North fail again
Freo stunned as Saints end 11-game losing streak
Cats just home after Giants great come-back
Plucky Demons just fail to down Port
Late Bomber burst sinks the Bulldogs
Tigers have the answers over Eagles in Perth wet
Brisbane blitz Gold Coast; finals hopes fade
Hawks by 10pts end Sydney's 12-game run
Crows replace Magpies in top eight
---
Wednesday, July 30
Essendon board confirm their support of Hird
Essendon's board on Tuesday declared it is united behind exiled senior coach James Hird following strident comments in The Age by Caroline Wilson.

Michael Warner in the Herald Sun Online wrote: "As a result of ongoing inaccurate and mischievous reporting by Fairfax Media the Essendon FC board wishes to re-confirm its position relating to James Hird," the club's nine directors said in a joint statement on Tuesday.

"The board is unanimous in its support of James and the strategy in place relating to his return to the club. To suggest the board is split in its support for James is simply not true.

"Given the testing time our club has been through over the past two years, the board is immensely proud of the resilience of our players, coaches, staff and supporters and have no doubt that the ongoing loyalty of everyone at Essendon will continue to galvanise our club.

"We are united as a club and the Essendon board will continue to make decisions in the best interest of our players, staff and members."

Bomber chairman Paul Little said on Friday the decision was made "in the best interests of the club and, most importantly, the players" as the team head towards September.
Tuesday, July 29
Tribunal
Vickery suspended for four matches
At the Tribunal on Tuesday evening Richmond's Ty Vickery did not seek to contest the MRP gradings and pleaded guilty. The tall forward did not give evidence.

The jury of Wayne Henwood, Emmett Dunne and Wayne Schimmelbusch took seven minutes to allocate 495 demerit points to Vickery, ruling him out for four matches.

He will carry the 95 carry-over points on his record for the next 12 months.

Vickery's hit knocked West Coast's Dean Cox out and he was substituted out of the Eagles' 17-point loss last Friday night at Subiaco Oval.

He had an existing bad record of 43.75 demerit points, which were taken into account when setting the final penalty.

Tribunal – 2014
Tuesday, July 29
Round 23: Days and times detailed
Hawthorn and Collingwood have been given the plum Friday night slot in the final round of the AFL season.

The match between Melbourne's biggest modern-day powerhouses and MCG tenants will start the final round, before most finals-contenders play on Saturday.

Essendon will play Carlton at the MCG on Saturday afternoon, with Sydney hosting Richmond and Fremantle welcoming Port Adelaide on the same day.

Sydney will play their round 23 match at the Olympic Stadium at Homebush, where it is likely to host any home finals –

ROUND 23
Friday, August 29
Collingwood v Hawthorn, MCG(n), 7.50 EST
Saturday, August 30
Carlton v Essendon, MCG, 1.45
Fremantle v Port Adelaide, Subiaco, 4.10 (1.10 WST)
Sydney v Richmond, Homebush(n), 4.40
Geelong v Brisbane, Kardinia Park(n), 7.40
North Melb v Melbourne, Docklands(n), 7.40
Sunday, August 31
Gold Coast v West Coast, Carrara, 1.10
Adelaide v St Kilda, Adelaide Oval, 3.20 (2.50 CST)
West.B'dogs v GWS Giants, Docklands(n), 4.40
Tuesday, July 29


West Coast's Luke Shuey and Mark LeCras have both accepted $900 sanctions for engaging in misconduct against Vickery in the same match.
Sydney's Jeremy Laidler has accepted a reprimand and 70.31 points towards his future record for striking Hawthorn's Jack Gunston during Saturday night's MCG clash.
Tribunal – 2014

West Coast ruckman Dean Cox admits he's not the "best of mates" with Ty Vickery, but is grateful to receive an apology from the Richmond big man.

Justin Chadwick for AAP reported: Vickery is facing suspension after hitting Cox in the jaw with a roundhouse blow during Richmond's 17-point win at Subiaco on Friday night.

Cox, who was knocked out, has little memory of the game – and none of the incident itself.

The retiring Eagle didn't suffer any structural damage but remains in doubt for Saturday's away clash with Adelaide at Adelaide Oval.

Vickery publicly apologised to Cox on Sunday and he also gave the Eagles legend a telephone call to express his remorse over the incident.

Melbourne has confirmed Paul Roos has extended his contract as Demons coach through until the end of the 2016 season.

Yahoo! Sport reported: Roos, who coached Sydney to the 2005 premiership, had been appointed on a two-year deal and has decided to take the option of a third season in charge.

The Demons sit in 17th place on the ladder with a 4-13 record.

Richmond forward Jake King announced his retirement on Monday.

The 30-year-old has played just twice this season, stranded on the long-term injury list at Punt Road with foot and toe injuries.

King will finish with 107 games for the Tigers and 79 goals.

There's always another story ...
Tuesday, July 29
MRP from Round 18 (second part of split round)
WEST COAST v RICHMOND


TY VICKERY (Rch) charged with striking DEAN COX (WCE) in Q2 – the incident was assessed as intentional, severe impact and high contact. The matter was referred directly to the Tribunal.


LUKE SHUEY (WCE) charged with a Level One misconduct offence against TY VICKERY (Rch) in Q2. An early guilty plea will draw a $900 fine.


MARK LeCRAS (WCE) charged with a Level One misconduct offence against TY VICKERY (Rch) in Q2. An early guilty plea will fetch a $900 fine.

HAWTHORN v SYDNEY
JEREMY LAIDLER (Syd) charged with a Level Two striking offence – intentional, low impact, body contact – against JACK GUNSTON (Haw) in Q3. An early guilty plea will bring a reprimand and demerit points.

Other incidents assessed –


BRANDON ELLIS (Rch) for rough conduct against PATRICK McGINNITY (WCE) – force used was below that to bring a report.


CLINTON YOUNG (Col) for striking BRODIE SMITH (Ade) – force used was below that to bring a report.


DEAN COX (WCE) and TY VICKERY (Rch) – at a boundary throw-in Cox throws his arm back and makes contact with Vickery. Force used was below that to bring a report.



Tribunal – 2014
Tuesday
, July 29
AFL-NAB Rising Star, Round 18
Jonathon Patton (GWS Giants)
Former No.1 draft pick Jonathon Patton has entered the race for this year's NAB AFL Rising Star award.

The AFL webpage noted: The Greater Western Sydney big man catapulted himself into the running after a strong aerial display in the Giant's narrow loss to Geelong in round 18.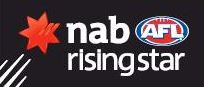 Patton hauled in a career-best nine marks and booted two goals from 15 possessions as GWS fell seven points short against the Cats.

It was a clear sign of big things to come from GWS and Patton, who becomes the Giants' 13th Rising Star nominee in less than three seasons.

A ruptured ACL wrecked his 2013 campaign but he's finally getting continuity in his football and it's working wonders.

The 198cm Eastern Ranges product has booted 21 goals from 16 games this season and is averaging almost 12 disposals and five marks playing a variety of roles.

AFL-NAB Rising Star award ... more

2014, Round 19
Thu-Fri-Sat-Sun, July 31, August 1-2-3
(subject to selection, injury or suspension)
CAREER MATCHES
300 – Field Umpire BRETT ROSEBERY, debut 2000
CAREER GAMES
250 – JAMES KELLY (Geelong), 2002-14
100 – SAM JACOBS, 83 Ade 2011-14. 17 Car 2009-10
100 – LEIGH ADAMS (North Melb), 2007-14
50 – JOSH GREEN (Brisbane), 2011-14
MATCHES WITH CURRENT CLUB
50 – IVAN MARIC (Richmond), 2012-14; also 77 Ade 2006-11
CONSECUTIVE MATCHES PLAYED to end R18

124– JOSH P KENNEDY (Syd+Haw), sequence began 2009-R14 v WB
94 – NICK DAL SANTO (NM+StK), sequence began 2011-R5 v Bri
83 – DREW PETRIE (NM), sequence began 2011-R2 v Col
78 – TED RICHARDS (Syd), starting 2011-R6 v Car
TID-BITS

KANE CORNES has enjoyed 145 wins with Port Adelaide and is poised to overtake club record-holder WARREN TREDREA (1997-2010)


Sydney's ADAM GOODES has played 135 times at the SCG – record-holder on 136 games is MICHAEL O'LOUGHLIN (1995-2009)


RYAN CROWLEY (Fremantle) is due to play his 100th game at Subiaco


ADAM SCHNEIDER (StK+Syd) has kicked 248 goals


MATHEW STOKES (Gee) has kicked 198 goals


JUSTINE WESTHOFF (PA) has kicked 145 goals


SHANE EDWARDS (Rch) has kicked 96 goals


Last time Richmond won five-straight – 2000-R8-9-10-11-12
Monday, July 28
From Round 18 – second part of split round
WEST COAST v RICHMOND


the Eagles kicked their lowest score of 39 meetings against Richmond; previous lowest of 8.14-62 was posted last year at Subiaco ...


West Coast losses to the Tigers at Subiaco are few since they first met in 1987 – this was just the fourth win from 17 engagements – the others 2001-R5 (109-70), 2008-R15 (152-75) and 2013-R10 (103-62) ...


new stats from the match will be added to the records ...


a

new addition to the AFL 200 Club TROY CHAPLIN, 39 Rch 2013-14 140 PA 2004-12, 21 pre-season ...



BRISBANE v GOLD COAST


the Lions kicked a new Q1 high score of 7.7 versus the Suns, topping 5.2 from 2011-R21 at the Gabba ...


100th BEN McEVOY, 10 Haw 2014, 90 StK 2008-14 ...
HAWTHORN v SYDNEY


the 72,760 who attended the MCG was the biggest home-and-away crowd to watch the pair play; a close parallel (as pointed up by LEONARD COLQUHOUN) to the 72,130 that watched the final match played at Waverley Park in 1999-R22 when the Hawks also won that 153-68 ...


Sydney's 12-game winning run was ended ..
12 – 1918, R5-14, 2SF, GF
12 – 1933-34, R10-18, 2SF, GF, R1
12 – 1935, R2-3-4-5-6-7-8-9-10-11-12-13
12 – 2014, R5-6-7-8-9-B-11-12-13-14-15-16-17


a new addition to the AFL 200 Club GRANT BIRCHALL, Hawthorn, 2006-14, 186 premiership, 14 pre-season ...


200th JARRYD ROUGHEAD, Hawthorn, 2005-14 ...


100th BEN McEVOY, 10 Haw 2014, 90 StK 2008-14 ...

COLLINGWOOD v ADELAIDE


the Crows beat Collingwood at the MCG for only the third time – past wins were 1998-R13 (79-70) and 2009-R1 (90-86) ...


150th RICHARD DOUGLAS, Adelaide, 2006-14 ...


100th JAMES PODSIADLY, 17 Ade 2014, 83 Gee 2010-13 ...

50th JAMIE ELLIOTT, Collingwood, 2012-14 ...

Round 18 –

*Match Review*– The Stats that Matter
CORRECTION – Monday, July 28



Attendances: Round 18 (split round)
at 307,041 as detailed in *Match Review* –

Progressive tally for the season is 4,977,631.
Friday, July 25
James Hird returns to prepare for 2015
James Hird's return to Essendon has been confirmed by the club, although the currently-suspended coach will take up a limited role for the remainder of the 2014 season.

ABC Sport reports: Hird, who has spent time overseas since receiving his AFL ban in 2013, will not be present in the Bombers' coaching box or at training for the remainder of 2014, and instead will be tasked with preparing for the 2015 season away from the playing group.

Essendon chairman Paul Little expressed his delight at welcoming Hird back to the club from August 25, but stressed the parameters of his return.

"We have all agreed that when James is eligible to return to the club on August 25, James' focus will be entirely on the 2015 season – he will not be in the coaching box or have an active coaching role at training.

"In that time period between August 25 until our final game of the season, James will take the opportunity to begin planning the upcoming pre-season, list management, recruiting and preparation for 2015 away from the club."

Bombers appoint Xavier Campbell as CEO
Essendon also revealed 34-year-old Xavier Campbell had been promoted to the role of chief executive at the club.

Campbell had spent time working as the club's chief operating officer and general manager of projects and partnerships, and says that his new appointment is an honour.

"We had an extremely talented and experienced group of candidates from a range of different business and sporting backgrounds to choose from, but as a club we felt Xavier had displayed the necessary qualities and business acumen to make the step up to the role of CEO," Essendon chairman Paul Little said.

"Xavier has been an integral member of the club's senior management for the past five years, and over the last eight months has shown tremendous leadership, work ethic and vision as interim CEO."
Friday, July 25


The 1948 VFL premiership flag missing from the Melbourne FC has been found in southern New South Wales town Moama on the Murray River opposite Echuca.

The flag surfaced on eBay this week with a starting price of $80,000.



ABC Sport reports:

The pennant was awarded to the Demons after defeating Essendon by 39 points in a rematch after the league's first ever grand final draw.

Acting Superintendent Michael Tranby said the grand final icon was seized at a home in Moama on Wednesday.

The flag was officially listed as missing in 2000 but it was not known exactly when it disappeared.

Police were investigating how the flag came to be in NSW and have told club officials the pennant would be returned once the investigation ends.

Ruckman Tom Hickey on Thursday became the seventh St Kilda player to be ruled out for the remainder of the season because of knee tendonitis.

Hickey, 23, has played six games in 2014 for a career total of 30.

Beau Maister (shoulder), Eli Templeton (arm), Arryn Siposs (shoulder), Tom Lee (shoulder), Daniel Markworth (hamstring) and Jimmy Webster (foot) also won't play again this season.
Last-placed St Kilda have a 4-13 record and have a bye this weekend.

The GWS Giants have suffered a fourth season-ending injury in little more than a week, with luckless key defender Tim Mohr requiring a left knee reconstruction.

Adrian Warren of AAP reported: The 25-year-old Tasmanian was hurt against Geelong last Saturday and became the sixth Giant ruled out for the rest of the AFL season.

Last week, gun young midfielders Lachie Whitfield (shoulder and foot) and Stephen Coniglio (thumb) were ruled out.

On Tuesday, the club announced star forward Jeremy Cameron would sit out the rest of the year and undergo knee and ankle surgery.

Mohr is the third Giants key back to suffer a season-ending injury after Aidan Corr (shoulder) and Nick Haynes (ankle).

Two other defenders – Heath Shaw and Curtly Hampton – are also out injured, with the Giants never being able to field their first-choice back six this year, following early-season injuries to Mohr and co-captain Phil Davis (kidney).

Hampton (shoulder) has missed the last six games and is likely to be unavailable for two more.

The Giants don't have the option of promoting their one remaining rookie list player, midfielder Sam Schulz, as he is sidelined with a rib problem.

The expanding injury toll shouldn't get any larger this week, as both senior and reserve sides have a bye.

Brisbane has reportedly appointed Greg Swann as the club's new CEO.

Fairfax Media reported on Thursday that Swann would be announced as Malcolm Holmes' replacement as soon as Friday.

Swann stepped down as Carlton CEO in June after seven years in the role.
Thursday, July 24


Suspended Essendon coach James Hird arrived back in Melbourne on Tuesday following recent months in France at a business training school.
It has been reported he has engaged in talks with Essendon officials on his return to the game when his AFL suspension is completed at Round 23.

Kane Cornes will play on into a 15th season following signing on with Port Adelaide for 2015.
The 31-year-old has played 285 matches and is Port's games record-holder.

The AFL has warned clubs not to comment on potential Match Review Panel or Tribunal matters in a way that might affect the case in the wake of the Brian Lake-Drew Petrie hearing.
Peter Ryan writes on the AFL webpage: The AFL wrote to all clubs to reiterate that it was important to be cautious when asked about incidents that the MRP might assess.

Port Adelaide legend Warren Tredrea has been appointed as an All Australian selector, AFL general manager of football operations Mark Evans confirmed on Wednesday.
The nine-man All Australian selection panel consists of Gillon McLachlan (chairman), Kevin Bartlett, Luke Darcy, Evans, Danny Frawley, Glen Jakovich, Cameron Ling, Matthew Richardson and Tredrea.
The panel, along with Kevin Sheehan, also chooses the winner of the NAB AFL Rising Star Award.

Wednesday, July 23
Surprise packets
Since the half-way mark of this season, there have been nine matches where a side has been defeated by another side six or more places below it on the ladder at the time they met.

This is a relatively high figure given there have been just six rounds beyond the half-way mark.

The figures for recent seasons for a full quota of matches in the second half of the season are as follows:
| | |
| --- | --- |
| 2014 | 9 to part way through Rd 18 |
| 2013 | 9 |
| 2012 | 5 |
| 2011 | 5 |
| 2010 | 8 |
| 2009 | 8 |
| 2008 | 11 |
| 2007 | 12 |
2014 so far

Nine different teams have inflicted the damage. Port Adelaide (three times, in consecutive weeks) and North (twice) have been multiple victims.

In Rd 15, Adelaide 11th d Port Adelaide 1st
In Rd 16, Essendon 10th d Port Adelaide 2nd
In Rd 17, Richmond 12th d Port Adelaide 3rd.

In Rd 15, Brisbane 17th d North Melbourne 7th
In Rd 18, Carlton 14th d North Melbourne 6th.

Previous seasons

In 2013, Geelong was the victim three times, while North inflicted damage on two occasions. The Cats still managed to finish second on the ladder.

In 2009, Essendon was the victim three times, but still managed to cling to eighth place and a finals spot.

In 2007, West Coast was the victim three times, and Brisbane was the spoiler on three occasions.

Summing-up

Instances of lower-placed sides springing surprises are not rare, but 2014 may end up being a year when they are more frequent than usual.
Wednesday, July 23


The Williamstown club has become the first multiple winner of the Foxtel Cup after crushing West Perth by 63 points in the Grand Final held at Kardinia Park on Tuesday night in chilly conditions of five degrees.

The AFL webpage reported the 10.11 to 1.2 victory added another trophy to the Seagulls' cabinet to sit alongside their 2011 triumph, the inaugural Foxtel Cup season. The win also boosted the club's coffers by $100,000 to help with their 150th anniversary celebrations.

It was a significant achievement for Williamstown in its first year back as a standalone club in the VFL since 2000, following alignments with AFL clubs Collingwood and the Western Bulldogs – the latter ending last season.

It was also the second Foxtel Cup triumph for Williamstown coach Andy Collins, who led West Adelaide to last year's title over Claremont.

Worth attention ...
Key news web sites to follow ...
AFL.com.au – more ...
The Age, Real Footy – more ...
Herald Sun – more ...
Yahoo! Sport – more ...
---
Worth attention:



AFL Tables, the ultimate in footy facts – more


Rogers amazing AFL footy facts – more ...


The authorative VFA history 1877-1995 – more ...


Draw 2014 – more ...



Bruce Kennedy – Perspective – more


Charles Boyles amazing photo collection – more


Management of Concussion in football – more ...


Laws of the Game charter – more ...



Worth repeating – more – key articles of 2014 interest
---
| | | | | | | | |
| --- | --- | --- | --- | --- | --- | --- | --- |
| | | | P | W | L | % | Pts |
| 1 | | Sydney | 17 | 13 | 4 | 138.8 | 52 |
| 2 | | Hawthorn | 17 | 13 | 4 | 138.0 | 52 |
| 3 | | Geelong | 17 | 13 | 4 | 112.1 | 52 |
| 4 | | Fremantle | 17 | 12 | 5 | 133.2 | 48 |
| 5 | | Port Adel | 17 | 12 | 5 | 132.4 | 48 |
| 6 | | North Melb | 17 | 10 | 7 | 112.5 | 40 |
| 7 | | Essendon | 17 | 10 | 7 | 109.8 | 40 |
| 8 | | Adelaide | 17 | 9 | 8 | 109.0 | 36 |
| 9 | | Coll'wood | 17 | 9 | 8 | 105.0 | 36 |
| 10 | | Gold Coast | 17 | 9 | 8 | 96.1 | 36 |
| 11 | | West Coast | 17 | 7 | 10 | 106.6 | 28 |
| 12 | | Richmond | 17 | 7 | 10 | 101.3 | 28 |
| 13 | | Carlton | 17 | 6 | 11 | 91.5 | 24 |
| 14 | | West.B'dogs | 17 | 6 | 11 | 85.5 | 24 |
| 15 | | Brisbane | 17 | 5 | 12 | 67.7 | 20 |
| 16 | | GWS Giants | 17 | 4 | 13 | 73.5 | 16 |
| 17 | | Melbourne | 17 | 4 | 13 | 73.0 | 16 |
| 18 | | St Kilda | 17 | 4 | 13 | 61.6 | 16 |
---
Statistics – a flexible fact
always being revised ...




Weekly placings since 1987


W-L-D each season since 1997



Tribunal – 2014



Attendances, 2001–2014

Footystats Diary –
pick a year and click ...
1992, 1993, 1994, 1995, 1996, 1997, 1998, 1999, 2000, 2001, 2002, 2003, 2004, 2005, 2006, 2007, 2008, 2009,
2010, 2011, 2012, 2013, 2014,



Bruce Kennedy: Perspective


(Michael) Rogers Results



Chronology of football since 1858



all updated

Premiers, since 1897


Minor Premiership, since 1897


Premiership placings, since 1897


The Big Ladder of 2013


Venue performances


Matches at 43 venues, 1897–2013


Stats Update, every round of 2014


Attendances, 2001–2014


All-Time Match Records, 1897-2013


Leading Goalkickers, since 1897


Tops in goals, since 1987


All–Time Goalkickers, 10 goals+


All–Time Goalkickers, venues


Adelaide 2013


Brisbane 2013


Carlton 2013


Collingwood 2013


Essendon 2013


Fremantle 2013


Fsc-West.B'dogs 2013


Geelong 2013


Gold Coast 2013


GWS Giants 2013


Hawthorn 2013


Melbourne 2013


North Melbourne 2013


Port Adelaide 2013


Richmond 2013


St Kilda 2013


Sydney 2013


West Coast 2013


VFL–AFL Graph, 1897–2013


Coaches – every club, every game


200-Game Coaches, 1902–2013


Coaches, sacked, other departures


Milestone Matches


Finals Attendances, 1898–2013


Membership numbers, 1985–2013


Pre-season and practice matches
*Leonard Colquhoun* (2010-11)
key attendance figures, 1897–2011
*Leonard Colquhoun* (2012)
Debut derbies; attendances
*Leonard Colquhoun* (2013)
key attendance figures
MCG, H&A and finals, crowds 1897-2013
*Leonard Colquhoun* (2014)
key attendance figures
Archive pages available –
---


footy's best kept secret
"all the news you need to know"

Sydney, July 25-31, 2014
Diary Week 949

sources include:
afl.com.au, newslimited, The Age,
abc.net.au, sportal.com.au

The Diary is usually updated daily
and frequently in–between, delivering detail in a manner not found elsewhere.

Created in Front Page; designed for use in Windows and Internet Explorer 6-7-8-9-10-11, also Google Chrome
Differences may appear in Firefox – font default must be *Arial*.
---
Australian Football
(Official title of the code)

Whether it is called Australian Football, Australian Rules Football,
"Aussie Rules", the VFL, the AFL, Australia's only indigenous football code is officially entitled
'Australian football'.
It has never been officially referred to as 'Australian rules football'. Such terminology has only ever appeared in the form of football journalism, coined by different writers.
AFL refers to the elite Australian football competition known as the Australian Football League.
The insult of "Aussie Rules" equates to an offence of the words
"aerial ping–pong".
---
Heard something? – tell me — footystats
---
Note: Points of view and opinions put forward in our forum do not necessarily reflect the opinion of Footystats and Kevin Taylor. Expressions of opinion are exclusively the responsibility of their authors. If you should be of the opinion that illegal content has been posted you are kindly asked to indicate this to us at Footystats.
---
ABC News Online
Latest Australian & Worldwide News
---
Footystats *News Alert*
Subscribe or Unsubscribe
footystats–request@bigfooty.com.au
---
*Worth Repeating* – key articles, considered of interest ... more
---
*Broken Link?
please tell me ... footystats
---
Draw 2014 – more ...
All times are Eastern
(subject to alteration)

ROUND 1
Friday, March 14
Col 5.16-46 v Fre 17.16-116
Saturday, March 15
GWS 15.9-99 v Syd 9.13-67
GC 12.15-87 v Rch 10.9-69
Sunday, March 16
Car 12.15-87 v PA 18.12-120

Thursday, March 20
Gee 18.11-119 v Ade 12.9-81
Friday, March 21
NM 9.6-60 v Ess 15.9-99
Saturday, March 22
Haw 21.13-139 v Bri 13.13-91
StK 10.8-68 v Mel 6.15-51
Sunday, March 23
WCE 21.8-134 v WB 11.3-69

ROUND 2
Thursday, March 27
Rch 14.14-98 v Car 12.14-86
Friday, March 28
Ess 12.14-86 v Haw 13.12-90
Saturday, March 29
StK 15.5-95 v GWS 13.10-88
PA 19.13-127 v Ade 11.7-73
Syd 10.9-69 v Col 12.17-89
Fre 12.15-87 v GC 5.9-39
Sunday, March 30
Bri 10.8-68 v Gee 13.15-93
Mel 4.6-30 v WCE 18.15-123
WB 8.6-54 v NM 12.11-83

ROUND 3
Friday, April 4
Haw 21.11-137 v Fre 11.13-79
Saturday, April 5
WB 15.10-100 v Rch 15.8-98
Ade 9.17-71 v Syd 21.8-134
GC 17.12-114 v Bri 9.7-61
Col 11.10-76 v Gee 12.15-87
WCE 12.11-83 v StK 8.10-58
Sunday, April 6
GWS 10.19-79 v Mel 7.5-47
NM 14.13-97 v PA 13.12-90
Ess 21.12-138 v Car 8.9-57

ROUND 4
Friday, April 11
Rch 10.12-72 v Col 16.14-110
Saturday, April 12
Mel 12.9-81 v Car 7.16-58
PA 24.15-159 v Bri 7.4-46
GWS 12.11-83 v WB 17.8-110
GC 7.7-49 v Haw 23.10-148
Gee 16.11-107 v WCE 4.8-32
Sunday, April 13
Syd 6.12-48 v NM 13.13-91
StK 7.8-50 v Ade 20.16-136
Fre 18.5-113 v Ess 9.6-60

ROUND 5 (Easter)
Thursday, April 17
Bri 9.9-63 v Rch 15.16-106
Saturday, April 19
Col 13.15-93 v NM 8.10-58
Syd 13.14-92 v Fre 11.9-75
Ess 9.11-65 v StK 11.15-81
WCE 7.14-56 v PA 10.10-70
Sunday, April 20
Ade 21.11-137 v GWS 10.12-72
Mel 11.12-78 v GC 11.20-86
WB 13.13-91 v Car 18.11-119
Monday, April 21
Gee 15.16-106 v Haw 12.15-87

ROUND 6 (Anzac)
Friday, April 25
Col 12.11-83 v Ess 8.12-60
StK 11.13-79 v Bri 12.10-82
Fre 8.13-61 v NM 10.14-74
Saturday, April 26
GC 20.14-134 v GWS 13.16-94
Car 14.8-92 v WCE 12.17-89
Mel 5.8-38 v Syd 9.15-69
Sunday, April 27
WB 12.11-83 v Ade 13.14-92
Rch 7.10-52 v Haw 18.10-118
PA 16.11-107 v Gee 9.13-67

ROUND 7
Friday, May 2
Car 10.10-70 v Col 14.20-104
Saturday, May 3
Haw 27.13-175 v StK 4.6-30
GWS 15.7-97 v PA 20.12-132
Ade 9.13-67 v Mel 11.4-70
Ess 10.13-73 v WB 9.11-65
Bri 6.8-44 v Syd 18.15-123
Sunday, May 4
NM 11.11-77 v GC 18.12-120
Gee 11.15-81 v Rch 12.4-76
WCE 7.12-54 v Fre 11.7-73

ROUND 8
Friday, May 9
Syd 15.17-107 v Haw 13.10-88
Saturday, May 10
PA 13.16-94 v Fre 11.10-76
Bri 8.9-57 v Ess 9.11-65
Mel 12.11-83 v WB 15.9-99
Sunday, May 11
WCE 30.8-188 v GWS 12.5-77
Monday, May 12
StK 9.15-69 v Car 15.11-101
BYE: Ade, Col, Gee, GC, NM, Rch

ROUND 9
Thursday, May 15
Ade 10.16-76 v Col 7.13-55
Friday, May 16
Ess 9.10-64 v Syd 18.6-114
Saturday, May 17
Rch 9.20-74 v Mel 14.7-91
NM 17.23-125 v Bri 6.2-38
Fre 13.18-96 v Gee 9.10-64
Sunday, May 18
StK 13.9-87 v GC 19.11-125
BYE: Car, GWS, Haw, PA, WC, WB

ROUND 10
Friday, May 23
Gee 16.15-111 v NM 13.13-91
Saturday, May 24
GWS 5.11-41 v Rch 24.10-154
Col 17.7-109 v WCE 15.11-101
PA 15.10-100 v Haw 13.8-86
Sunday, May 25
GC 18.11-119 v WB 10.14-74
Car 12.9-81 v Ade 10.16-76
BYE: Bri, Ess, Fre, Mel, StK, Syd

ROUND 11
Thursday, May 29
Syd 22.16-148 v Gee 5.8-38
Friday, May 30
StK 8.6-54 v Col 21.14-140
Saturday, May 31
Mel 11.9-75 v PA 14.12-96
Bri 14.14-98 v Car 13.13-91
Ess 15.14-104 v Rch 7.12-54
Sunday, June 1
Ade 16.13-109 v GC 11.11-77
WB 6.15-51 v Fre 13.11-89
Haw 14.10-94 v GWS 13.9-87
WCE 6.8-44 v NM 12.10-82
ROUND 12
Friday, June 6
Gee 16.11-107 v Car 15.12-102
Saturday, June 7
Haw 19.9-123 v WCE 12.7-79
PA 19.15-129 v StK 9.5-59
GWS 9.12-66 v Ess 11.15-81
WB 13.9-87 v Bri 14.11-95
Sunday, June 8
GC 10.14-74 v Syd 17.7-109
Fre 12.18-90 v Ade 7.8-50
NM 17.14-116 v Rch 13.10-88
Monday, June 9
Mel 3.10-28 v Col 8.13-61

ROUND 13
Friday, June 13
Car 13.12-90 v Haw 18.10-118
Saturday, June 14
Rch 12.13-85 v Fre 16.9-105
Syd 14.14-98 v PA 13.16-94
WCE 15.13-103 v GC 15.10-100
Ade 16.13-109 v NM 10.13-73
Bri 12.8-80 v GWS 19.11-125
Sunday, June 15
Gee 20.13-133 v StK 5.7-37
Col 15.8-98 v WB 16.10-106
Ess 10.17-77 v Mel 12.6-78

ROUND 14
Friday, June 20
Rch 7.9-51 v Syd 9.8-62
Saturday, June 21
PA 19.14-128 v WB 8.8-56
Haw 17.13-115 v Col 13.8-86
GC 17.16-118 v Gee 11.12-78
Ess 15.11-101 v Ade 14.9-92
Fre 15.15-105 v Bri 3.4-22
Sunday, June 22
GWS 15.10-100 v Car 14.8-92
StK 10.10-70 v WCE 15.13-103
Mel 10.6-66 v NM 15.17-107

ROUND 15
Friday, June 27
Gee 13.11-89 v Ess 11.14-80
Saturday, June 28
Haw 17.14-116 v GC 10.3-63
StK 11.7-73 v Rch 18.9-117
Fre 13.10-88 v WCE 11.15-81
Bri 10.10-70 v NM 9.12-66
Syd 15.16-106 v GWS 8.12-60
Sunday, June 29
WB 14.7-91 v Mel 13.7-85
Ade 14.15-99 v PA 10.16-76
Col 13.13-91 v Car 11.10-76

ROUND 16
Friday, July 4
NM 16.12-108 v Haw 13.10-88
Saturday, July 5
Rch 12.7-79 v Bri 7.12-54
GWS 9.18-72 v Ade 20.20-140
GC 11.14-80 v Col 10.15-75
PA 7.18-60 v Ess 8.14-62
Mel 4.10-34 v Fre 15.7-97
Sunday, July 6
Car 24.7-151 v StK 10.6-66
WCE 7.9-51 v Syd 10.19-79
Gee 10.9-69 v WB 7.14-56

ROUND 17
Friday, July 11
Ade 14.8-92 v Haw 15.14-104
Saturday, July 12
Mel 5.6-36 v Gee 14.18-102
NM 13.14-92 v StK 3.15-33
WB 13.16-94 v GC 9.12-66
Syd 18.14-122 v Car 7.9-51
Bri 9.10-64 v WCE 11.10-76
Sunday, July 13
Rch 19.12-126 v PA 16.10-106
Ess 16.7-103 v Col 5.9-39
Fre 21.10-136 v GWS 9.6-60

ROUND 18
Friday, July 18
Car 16.13-109 v NM 13.8-86
Saturday, July 19
StK 17.16-118 v Fre 9.6-60
GWS 12.15-87 v Gee 13.16-94
Sunday, July 20
PA 10.12-72 v Mel 10.9-69
WB 14.10-94 v Ess 15.11-101
Friday, July 25
WCE 6.6-42 v Rch 8.11-59
Saturday, July 26
Bri 16.14-110 v GC 8.8-56
Haw 15.14-104 v Syd 13.16-94
Sunday, July 27
Col 12.10-82 v Ade 14.14-98

ROUND 19
Thursday, July 31
Fre v Car, Subiaco(n), 8.10
Friday, August 1
Syd v Ess, SCG(n), 7.50
Saturday, August 2
Ade v WC, AO, 1.40
Rch v GWS, MCG(n), 4.40
NM v Gee, Dok(n), 7.40
GC v StK, Carrara(n), 7.40
Sunday, August 3
Mel v Bri, Dok, 1.10
Haw v WB, York Park, 3.20
Col v PA, MCG(n), 4.40

ROUND 20
Friday, August 8
Rch v Ess, MCG(n), 7.50
Saturday, August 9
GWS v NM, Manuka, 1.45
Car v GC, Dok , 2.10
Haw v Mel, MCG(n), 4.40
Gee v Fre, KP(n), 7.40
PA v Syd, AO(n), 7.40
Sunday, August 10
Bri v Ade, Gabba, 1.10
StK v WB, Dok, 3.20
WC v Col, Subiaco(n), 4.40

ROUND 21
Friday, August 15
Car v Gee, Dok, 7.50
Saturday, August 16
Syd v StK, SCG, 1.45
GC v PA, Carrara, 2.10
Ess v WC, Dok(n), 4.40
Ade v Rch, AO(n), 7.40
Col v Bri, MCG(n), 7.40
Sunday, August 17
NM v WB, Dok, 1.10
Mel v GWS, MCG, 3.20
Fre v Haw, Subiaco, 4.40

ROUND 22
Friday, August 22
PA v Car, AO(n), 7.50
Saturday, August 23
NM v Ade, Bellerive, 1.45
Ess v GC, Dok, 2.10
GWS v Col, SSh(n), 4.40
Haw v Gee, MCG(n), 7.40
WC v Mel, Subiaco(n), 7.40
Sunday, August 24
Bri v Fre, Gabba, 1.10
WB v Syd, Dok, 3.20
Rch v StK, MCG(n), 4.40

ROUND 23
Friday, August 29
Col v Haw, MCG(n), 7.50
Saturday, August 30
Car v Ess, MCG, 1.45
Fre v PA, Subiaco, 4.10 (1.10 WST)
Syd v Rch, Hom(n), 4.40
Gee v Bri, KP(n), 7.40
NM v Mel, Dok(n), 7.40
Sunday, August 31
GC v WCE, Carrara, 1.10
Ade v StK, AO, 3.20 (2.50 CST)
WB v GWS, Dok(n), 4.40

THE FINALS
Week 1, EF, QF
Fri-Sat-Sun, Sept 5-6-7
Week 2, SF
Fri-Sat, Sept 12-13
Week 3, PF
Fri-Sat, Sept 19-20
Grand final
Saturday, September 27
---
Goals

R19
SCHULZ (PA)
(2.2)
52.15
FRANKLIN (Syd)
(3.5)
50.37
HAWKINS (Gee)
(2.2)
48.28
RIEWOLDT (Rch)
(1.1)
45.28
BREUST (Haw)
(3.1)
45.6
ROUGHEAD (Haw)
(4.4)
44.30
RIEWOLDT (StK)
(4.1)
42.15
GUNSTON (Haw)
(1.2)
41.20
BALLANTYNE (Fre)
(susp)
38.17
KENNEDY (WCE)
(1.1)
38.24
BETTS (Ade)
(2.1)
36.20
PAVLICH (Fre)
(2.0)
35.19
THOMAS (NM)
(2.4)
34.14
CLOKE (Col)
(3.1)
34.27
JENKINS (Ade)
(0.0)
34.20
LYNCH (GC)
(0.2)
33.18
ELLIOTT (Col)
(1.1)
31.10
PETRIE (NM)
(1.1)
29.21
CAMERON (GWS)
(1,2)
29.21
WINGARD (PA)
(1.1)
28.21
HENDERSON (Car))
(5.2)
28.14
CRAMERI (WB)
(1.1)
27.13
DARLING (WCE)
(2.0)
26.21
GRAY (PA)
(0.1)
26.21
---

RETIREMENTS

Brisbane
Jonathan Brown
Collingwood
Nick Maxwell
Melbourne
Mitch Clark
Port Adelaide
Dom Cassisi
Richmond
Jake King
St Kilda
Lenny Hayes
West Coast
Dean Cox
Darren Glass
Western Bulldogs
Tom Williams
---
Body Graffiti – players noted
Claye Beams (Bri)
Dayne Beams (Col)
Mitch Clark (Mel)
Travis Cloke (Col)
Adam Cooney (WB)
Lynden Dunn (Mel)
Jamie Elliott (Col)
Aaron Edwards (Rch)
Lance Franklin (Haw)
Jeremy Howe (Mel)
Nathan Jones (Mel)
Jake King (Rch)
Dustin Martin (Rch)
Ash McGrath (Bri)
Harry O'Brien (Col)
Clancee Pearce (Fre)
Ricky Petterd (Mel)
Jared Rivers (Mel)
Zack Tuohy (Car)
Dane Swan (Col)
Jesse White (Syd)
Chris Yarran (Car)

<>