Tuesday, September 30
Final 18 predictions and the results
Before Round 3 began the
Diary
carried the predictions of a few who have been around long enough to know better than forecasting.
As Hawthorn start to buy a cabinet for the well-deserved new silverware by my reckoning two of our merry band were closest to the pin.
Bruce Walkley
and
Bruce Kennedy
had the best figures each tipping seven of the final eight with BW edging BK out for his call that the Hawks and the Swans would end the season as the leaders.
I join with Ross and Michael in congratulating both the Brucies as we silently drink a toast to them. Cheers to all.
| | | | | | |
| --- | --- | --- | --- | --- | --- |
| Finish | BW | BK | RS | MR | KT |
| 1 | Haw | Haw | Fre | Fre | Haw |
| 2 | Syd | Fre | Ess | Haw | Syd |
| 3 | PA | NM | WCE | PA | Fre |
| 4 | Fre | Gee | Haw | Gee | Gee |
| 5 | Gee | Ess | Ade | WCE | WCE |
| 6 | Rch | Syd | Syd | Ess | PA |
| 7 | NM | PA | PA | Syd | Ade |
| 8 | Ade | Col | Gee | GC | Ess |
| 9 | GC | WB | Rch | Bri | Rch |
| 10 | Car | WCE | NM | Rch | Col |
| 11 | Col | Rch | GC | NM | Car |
| 12 | StK | GC | Col | Col | StK |
| 13 | GWS | Car | GWS | Ade | GC |
| 14 | WB | Ade | Car | Car | GWS |
| 15 | Mel | Bri | Bri | StK | Bri |
| 16 | Ess | GWS | WB | GWS | NM |
| 17 | WCE | StK | StK | WB | WB |
| 18 | Bri | Mel | Mel | Mel | Mel |
<>
Tuesday, September 30

What happens after a Grand Final blowout?
Here's a listing of what happened next season after a 10-goal margin Grand Final.

Winners:

1946 – Essendon – runner-up to Carlton in 1947
1949 – Essendon – premiers against North Melbourne in 1950
1956 – Melbourne – premiers against Essendon in 1957
1957 – Melbourne – runner-up to Collingwood in 1958
1980 – Richmond – finished out of the finals (seventh) in 1981
1983 – Hawthorn – runner-up to Essendon in 1984
1985 – Essendon – fifth, eliminated by Fitzroy in 1986
1988 – Hawthorn – premiers against Geelong in 1989
1994 – West Coast – sixth, out in straight sets in 1995
1995 – Carlton – sixth, out in straight sets in 1996
2000 – Essendon – runner-up to Brisbane in 2001
2007 – Geelong – runner-up to Hawthorn in 2008.
2014 – Hawthorn – ?

Based on the above, Hawthorn in 2015 is a 3/12 chance of backing-up, and a 5/12 chance of being runner-up.

Losers:

1946 – Melbourne – out of the finals in sixth place in 1947
1949 – Carlton – out of the finals in eighth place in 1950
1956 – Collingwood – out of the finals in fifth place in 1957
1957 – Essendon – out of the finals in fifth place in 1958
1980 – Collingwood – runner-up to Carlton in 1981
1983 – Essendon – premiers against Hawthorn in 1984
1985 – Hawthorn – premiers against Carlton in 1986
1988 – Melbourne – fourth, eliminated by Geelong in 1989
1994 – Geelong – runner-up to Carlton in 1995 and copped another "serve"
1995 – Geelong – seventh. eliminated by North Melb in 1996
2000 – Melbourne – finished 11th in 2001
2007 – Port Adelaide – finished 13th in 2008
2014 – Sydney Swans – ?

Based on the above, the Swans are a 2/12 chance of conquering the field in 2015, and a 2/12 chance of finishing lower than eighth place. Recent history is little encouragement.
Sunday, September 28
Grand Final
Hawthorn's 12th premiership

Stunning to see Swans play so badly
Hawthorn brutally outmuscled Sydney to win their 12th AFL premiership and confirm they are one of the game's all-time great teams. The MCG match on Saturday afternoon was played in sunny and warm conditions in front of 99,454 fans.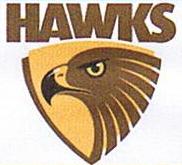 Roger Vaughan for AAP detailed: Going into Saturday's grand final as underdogs and on the back of an unusually-challenging season, the Hawks surprised even themselves with the ease of their 63-point win.

Hawthorn out-Sydneyed the Swans, reducing the minor premiers to a rabble with their ferocious attack on the ball and opponents.

The most telling statistic of the match was the 22-7 tackle count in Hawthorn's favour at quarter-time.

As good as the Hawks were, it was stunning to see Sydney play so badly.

The 21.11-137 to 11.8-74 win was the most lopsided grand final since Geelong's record 119-point pummelling of Port Adelaide seven years ago.

Hawthorn won consecutive premierships for the first time in 25 years.

It is the first back-to-back success since Brisbane's 2001-03 three-peat.

Combined with their surprise 2008 flag, Hawthorn join the Lions and Geelong (2007, '09 and '11) as the only AFL sides this century to win three premierships.

Coach Alastair Clarkson said the premiership itself was no shock, but admitted they did not expect the grand final win to be so comprehensive.

"The result didn't come as a surprise to us – I don't mean to say that in an arrogant fashion, because we prepared so well," Clarkson said.

"Not in our wildest dreams did we anticipate it was going to be a 10-goal victory.

"In actual fact, no-one saw it coming in terms of that margin and many didn't see it coming even in that result, because we were the underdogs.

"We probably deserved to be the underdogs, given Sydney's outstanding season, but we gave ourselves a great chance."

It was also sweet revenge for the Hawks after Sydney's epic 10-point grand final win two years ago.

Swans coach John Longmire couldn't seem to get his head around why his side were just so lacklustre.

"We were on the back foot from the first bounce and unfortunately we weren't able to wrest the momentum back at any stage," he said.

"It's just such a disappointing effort."



see also – Hawthorn pride produces another premiership
Saturday, September 27
Melbourne's Grand Final Parade
Footy erupts on streets in annual showpiece
Buddy Franklin was the name on tens of thousands of fans' lips as the AFL grand final parade proceeded on a sunny spring day in Melbourne on Friday.

Rob Forsaith for AAP recorded: Franklin and Dan Hannebery's vehicle was the one that generated the most noise from the streets as the motorcade worked its way through the CBD.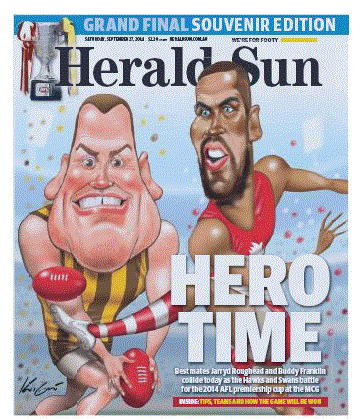 Whether kitted out in red and white or brown and gold, supporters let their feelings known about the man who left Hawthorn after winning the 2013 flag to join Sydney on a nine-year, $10 million deal.

Some booed, despite Hawthorn on-baller Jordan Lewis' pleas on Thursday not to poke the Buddy bear.

Some chanted Buddy's name.

Journalists, TV cameramen and paparazzi jostled as Franklin's car rolled down Swanston Street.

None of them were able to find front position in the way Franklin has on the field so often in this year's finals series.

Franklin was as relaxed as ever, waving to fans and answering all questions with a grin.

The annual event was without incident, an increased police and private security force watching on as diverted trams and cars created gridlock around the mass of pedestrians.

As always, the parade finished with both sides being presented to the public on the steps of the Treasury Building.

Hawthorn captain Luke Hodge and Sydney counterpart Kieren Jack held up the premiership cup.




Only one will earn that honour at the MCG today.
Friday, September 26
Saturday weather forecast
Max 24
Partly cloudy. Chance of any rain: 20%

Melbourne area
Noon Saturday at MCG was: 21.3C
Partly cloudy. Patchy fog about the outer suburbs this morning. The chance of light showers about the hills in the afternoon. Winds north to northwesterly 20 to 30 km/h tending 15 to 25 km/h in the afternoon.
Selected sides –



Sydney have named an unchanged side for the AFL grand final on Saturday, while Hawthorn have recalled Cyril Rioli alongside Ben McEvoy for the season decider, with Jonathan Simpkin and Jonathon Ceglar the unlucky pair to be dropped.



Rob Forsaith for AAP detailed: The Swans are happy to rely on the same 22 players that delivered victory in week one and three of the finals.

Hawthorn football manager Chris Fagan lamented that Saturday's emergencies Simpkin, Ceglar and Brad Sewell were "sad stories and very unlucky blokes".

Ceglar had been selected ahead of McEvoy in the Hawks' past four games.

Simpkin had played nine straight in Rioli's absence.

Jordan Lewis, who suffered a badly corked left leg in last Saturday's thrilling preliminary final against Port Adelaide, was named as expected.

Sam Reid, who jarred his right knee in Sydney's big win over North Melbourne last Friday night, was also selected after getting through Thursday's training session.

"Reid did everything that he had to do and did the whole session and our medical staff were happy with the way he moved," coach John Longmire said.

"He looked good out there, so he's ready to go."

Craig Bird has been the substitute in the Swans' two finals and is expected to be given the green vest again on the weekend.

If Hawks coach Alastair Clarkson elects to start Rioli, Taylor Duryea looms as their likely substitute.

SYDNEY

B:
Nick Smith, Ted Richards, Rhyce Shaw
HB:
Gary Rohan, Heath Grundy, Dane Rampe
C:
Kieran Jack, Josh Kennedy, Lewis Jetta
HF:
Dan Hannebery, Lance Franklin, Harry Cunningham
F:
Adam Goodes, Kurt Tippett, Ben McGlynn
Foll:
Mike Pyke, Luke Parker, Jarrad McVeigh
I-C:
Craig Bird, Jake Lloyd,
Nick Malceski, Sam Reid
Emg:
Tom Mitchell, Jeremy Laidler, Dean Towers
No change
HAWTHORN

B:
Josh Gibson, Brian Lake, Grant Birchall
HB:
Sam Mitchell, Ben Stratton, Luke Hodge
C:
Bradley Hill, Will Langford, Isaac Smith
HF:
Luke Breust, Jack Gunston, Jordan Lewis
F:
Ben McEvoy, Jarryd Roughead, Paul Puopolo
Foll:
David Hale, Liam Shiels, Shaun Burgoyne
I-C:
Cyril Rioli, Taylor Duryea,
Matt Spangher, Matt Suckling
Emg:
Jonathon Ceglar, Jonathan Simpkin, Brad Sewell
In:
Cyril Rioli, Ben McEvoy
Out:
Jonathan Simpkin (omit.), Jonathon Ceglar (omit.)

Weather on Grand Final day since 1950

What is the coldest day on which a Grand Final has been played; when was it the hottest and when was the wettest?

Bruce has kept tabs on it since 1950 – all the answers – more ...
Friday, September 26
Leonard Colquhoun finals special


Four long standing and well-run clubs have been the AFL's most consistent Finalists in the last seven seasons which, as time span of 175 games, is long enough for clubs to discover and to succeed in passing through that elusive Stargate-style 'premiership window':

Collingwood: finalists 2008-2013, Finals games 16;
Geelong: finalists 2008-2014, Finals games 19;
Hawthorn: finalists 2008, 2010-2014, Finals games 16; and
Sydney: finalists 2008, 2010-2014, Finals games 15.

His extensive updates can be found – Leonard Colquhoun ...
Thursday, September 25
Thank you


As we draw the curtain on our 18th season of Footystats online we at first say thanks to the loyalists who have stuck with us as readers down the years.

There are also the many I thank for their dedication to detect, research, write and present the many facts that appear throughout the season – without their contributions Footystats would be a skinny chicken to pluck.

It is instead a well-baked game primed and stuffed for the carving.

Thank you to —

Bruce Kennedy
Col Hutchinson
Michael Rogers
Martin Windsor-Black
Leonard Colquhoun
Eric Sorensen
Bill Hodges

and a host of others who this year have been generous to our work.

We look forward to joining you again when season 2015 comes around. Until then, please continue to check us out regularly as we will be updating all our files and following the news that happens "Tween Seasons".

KEVIN TAYLOR
Sydney
September 25, 2014
AFL time-table for Grand Final day

Time

Activity

9.30am

Gates Open

10.00am Half Time

Curtain Raiser – Australian U17s v Allies U18s

TAC Cup Presentation

12.30pm

Sprint Heats – Northern Side Wing

1.10pm

Preliminary team warm up opportunity

1.30pm

Retiring Players Motorcade – Luke Ball, Simon Black, Campbell Brown, Jonathan Brown, Domenic Cassisi, Dean Cox, Daniel Giansiracusa, Darren Glass, Brent Guerra, Lenny Hayes, Josh Hunt, Darren Jolly, Quinten Lynch, Ash McGrath, Nick Maxwell, Ryan O'Keefe, Lewis Roberts-Thomson, Ben Rutten, Heath Scotland.

1.36pm

Tom Jones & Ed Sheeran

2.02pm

Mike Brady performance

2.12pm

Umpires enter arena on cue
Delivery of match footballs to Umpires
Matt Stevic, Mathew Nicholls, Simon Meredith

2.14pm

Hawthorn enters arena on cue – team photo

2.17pm

Sydney Swans enter arena on cue – team photo

2.25pm

Premiership Cup Arrival –
Announcement of Premiership Cup presenters (team line up)

2.26pm

National Anthem

2.28pm

Two Sirens – toss of Coin

2.30pm

2014 Toyota AFL Grand Final commences

3.40pm (approx)

Half-time (25 minutes) – Auskick and Grand Final Sprint

5.20pm (approx)

Post match presentation – team photo

6.00pm (approx)

Media Conference – Runners Up

6.20pm (approx)

Media Conference – Premiers

7.30pm

Post Match Premiership Party –
Premiers presented on stage to fans at MCG
Thursday, September 25
Beams, Ryder, Clark and Lumumba –
where they might be going


Though contracted until the end of 2015, Collingwood midfielder Dayne Beams has requested a trade to Queensland. He won the Copeland in 2012 and has played 110 matches. The Magpies are expected to begin negotiations to persuade Beams to stay with the club at least until he is out of contract at the end on next season.



Port Adelaide and Brisbane have taken the front-running for Patrick Ryder, Essendon's powerful ruckman. Port coach Ken Hinkley is due to meet Ryder for a one-on-one today (Thursday). Hinkley said on 5AA on Wednesday the Power will use its first-round draft pick in bargaining.



Mitch Clark, the former Brisbane and Melbourne ruckman who retired mid-season after 97 games but now is seeking to revive his career. Collingwood and Essendon have shown interest in him. He is expected to make a decision on which club on Sunday.



Melbourne and North Melbourne are both making signs they are interested in gaining Heritier Lumumba after he quit Collingwood following his 10 seasons of 199 games with the Pies over a breakdown on the moral attitude of racism and homophobia.
ASADA waiting on moves by Bombers and Hird


ASADA, the national anti-doping body is waiting for Essendon and James Hird to decide on what they will do about last Friday's legal verdict before taking its next step.

Roger Vaughan for AAP reports: If Essendon and Hird do not appeal the verdict then ASADA said on Wednesday night that they will issue amended show cause notices to the players.

The Bombers and their coach have until October 10 to lodge an appeal against Federal Court Justice John Middleton's judgement.

Justice Middleton ruled against their argument that ASADA's joint investigation with the the AFL last year into the Essendon supplements program was unlawful.

Critically, ASADA's latest statement also said the amended notices would include a comprehensive summary of the evidence against the players.

Once the show-cause notices are issued, the 34 players have 10 days to respond.

The next step in the complex anti-doping process will be for ASADA to take the cases to the Anti-Doping Rule Violation Panel.

That panel will then decide whether to enter any or all of the 34 players into the register of findings.

If the panel rules against a player, he will then receive an infraction notice and will most likely go before the AFL tribunal.

The tribunal will ultimately decide whether the player is guilty and what penalty he should receive, although ASADA and the World Anti-Doping Agency can appeal against those findings.
Wednesday, September 24


From the ABC Grandstand webpage – worth a look –
Finals Flashback: 1958 VFL Grand Final
AFLCA names Longmire Coach of the Year


Sydney coach John Longmire has pipped Hawthorn counterpart Alastair Clarkson by one vote to take out the Allan Jeans Coach of the Year award.

The honour was announced on Tuesday night at the AFL Coaches Association Awards evening.

Swans chief executive Andrew Ireland praised Longmire after a brilliant season that culminates in an appearance in Saturday's grand final.

Longmire also won the award in 2012.
"The Origins of Australian Football"
Pennings marvellous exploration of our game continues in Volume 2
The second volume of Mark Pennings' book series "The Origins of Australian Football" has now been released — "A Golden Era Begins: Football in Marvellous Melbourne 1877 to 1885"

This soft cover book is 600+ pages and has 32 black and white and colour illustrations. The recommended retail price is $45 (+ postage). The book can be ordered via Col Hutchinson at Col.Hutchinson@afl.com.au or Mark Pennings at m.pennings@qut.edu.au..



Volume 1 is also available and can be secured from Col Hutchinson or Mark Pennings. The price is $35.

Worth attention ...
Key news web sites to follow ...
AFL.com.au – more ...
The Age, Real Footy – more ...
Herald Sun – more ...
Yahoo! Sport – more ...
---
Worth attention:



AFL Tables, the ultimate in footy facts – more


Rogers amazing AFL footy facts – more ...


The authorative VFA history 1877-1995 – more ...


Draw 2014 – more ...



Bruce Kennedy – Perspective – more


Charles Boyles amazing photo collection – more


Management of Concussion in football – more ...


Laws of the Game charter – more ...



Worth repeating – more – key articles of 2014 interest
---