Round 23
Fri-Sat-Sun, August 29-30-31

1
Friday (n)

MCG,

7.50
Collingwood v Hawthorn
2
Saturday

MCG, 1.45

Carlton v Essendon
3
Saturday

Subiaco Oval, 3.10

Fremantle v Port Adelaide
4
Saturday (n)

Homebush, 4.40

Sydney v Richmond
5
Saturday (n)
Kardinia Park, 7.40
Geelong v Brisbane
6
Saturday (n)

Docklands, 7.40

North Melb v Melbourne
7
Sunday

Carrara Oval, 1.10

Gold Coast v West Coast
8
Sunday

Adelaide Oval,, 3.20

Adelaide v St Kilda
9
Sunday (n)

Docklands, 4.40

West.B'dogs v GWS Giants

all times shown are Eastern
Round 23 – Bruce Kennedy's *Stats* & *Facts* of the matches
Round 23, Coaches, Head-to-head
The Best of Round 23 – all the records
*Match Review*– The Stats that Matter
Stats Update from every round of 2014
---
— 120 from 188
HAW
ESS
FRE
SYD
GEE
NM
WCE
ADE
WB
---
---
Venue performances, all clubs ... more
---
---
Friday, August 29

Luke Ball retires


Collingwood's 2010 premiership midfielder Luke Ball has announced he won't play on in 2015.

The 30-year-old former Saint would have required back surgery to play next season, the Magpies said on Thursday in a statement.

Ball will play game No.223 tonight against Hawthorn at the MCG, as the ninth-placed Magpies attempt to qualify for next week's finals series.

Pick No.2 in the 2001 draft, Ball won All-Australian, captaincy and club-champion honours in 142 matches with the St Kilda (2003-09) before joining Collingwood in 2010.
Favourite-son
'Gia' to bow out on Sunday

T

he much-loved Western Bulldog Daniel Giansiracusa will play his 265th and final AFL match on Sunday against Greater Western Sydney.

Ben McKay for AAP reported: Announcing his widely expected retirement on Thursday, "Gia" said he was fully ready for life beyond his 15-year playing career.

"I'm really looking forward to it," he said.

"It was probably looking like last year was going to be my last but I probably wasn't ready but I think I am now."

Coach Brendan McCartney has queried his decision several times but says Giansiracusa is looking towards coaching himself.

"He says 'stop asking me because I am sure I want to do it'," McCartney said.

"He'll end up being exactly the way he was as a player. He'll leave no stone unturned ... he'll be a roaring success."

Drafted in 1999 alongside defender Bob Murphy, the flashy goal-sneak and old school runner formed an unlikely career-long friendship.

There's always another story ...

2014, Round 23
Fri-Sat-Sun, August 29-30-31
(subject to selection, injury or suspension)
CAREER GAMES
250 – CHRIS NEWMAN (Richmond), 2002-14
150 – MARK JAMAR (Melbourne), 2003-14
150 – ALIPATE CARLILE (Port Adel), 2006-14
100 – RORY SLOANE (Adelaide), 2009-14
100 – BEN REID (Collingwood), 2007-14
100 – LEWIS JETTA (Sydney), 2010-14
50 – CHARLIE DIXON (Gold Coast), 2011-14
50 – DYLAN SHIEL (GWS), 2012-14
50 – JAMIE CRIPPS (West Coast), 34 WCE 2013-14; 16 StK 2011-12
50 – KOBY STEVENS, 39 WB 2013-14; 11 WCE 2010-12
UMPIRES
200 – RAY CHAMBERLAIN, debut 1994-R20-P, Haw-WCE (Fri, Col-Haw)
150 – CHRIS KAMOLINS, debut 2005-R6 (Fri, Col-Haw)
CONSECUTIVE MATCHES PLAYED to end R21

98 – NICK DAL SANTO (NM+StK), sequence began 2011-R5 v Bri
87 – DREW PETRIE (NM), sequence began 2011-R2 v Col
82 – TED RICHARDS (Syd), starting 2011-R6 v Car
TID-BITS

ADAM SCHNEIDER (StK+Syd) has kicked 249 goals


MATHEW STOKES (Gee) has kicked 199 goals


DAVID HALE (Haw+NM) has kicked 199 goals


STEELE SIDEBOTTOM (Col) has kicked 97 goals


BRYCE GIBBS (Car) has kicked 98 goals
Friday, August 29
"The Origins of Australian Football"
Pennings marvellous exploration of our game continues in Volume 2
The second volume of Mark Pennings' book series "The Origins of Australian Football" has now been released.

Pennings' critically acclaimed first volume covered the period from 1858-1876 (which is still available), and this new volume describes the next period in football history from 1877 to 1885.

As part of an ongoing history of the "Origins of Australian Football" that seeks to fill in the "missing years" of this great game, the second volume is called "A Golden Era Begins: Football in Marvellous Melbourne 1877 to 1885" and discusses the evolution of football, from the formation of the Victorian Football Association in 1877, to its development in other Australian colonies, and its growth into a major spectator sport in the mid-1880s at a time when Melbourne was experiencing an unparalleled boom.

In the late 1870s Geelong became the dominant football force and revolutionised the game by improving physical fitness and developing a scientific approach to tactics and strategy that transformed football into an attractive high marking, long kicking, fast and open game. The "Pivots" as they were known at this time, maintained their pre-eminence in Victorian football for a decade, but South Melbourne challenged its supremacy and also secured premierships.

In 1879 the first Inter-Colonial football contest was held between Victoria and South Australia, and Victorian teams began to tour South Australia, Tasmania and New South Wales to meet local combatants and helped foster the game throughout the continent. As more working class people participated in football and attended its matches the sport became a truly mass cultural phenomenon with big games attracting attendances of up to 20,000. Football matches also began to move into cricket grounds and the revenue gained from admission charges contributed to the establishment of wealthy and powerful clubs such as Geelong, South Melbourne, Carlton and Essendon. New clubs such as Fitzroy and Richmond also joined an expanding senior football competition. The 1880s was the golden era in the early days of football, and Pennings' authoritative account presents another chapter that brings these missing years in Australian football history to light.



This soft cover book is 600+ pages and has 32 black and white and colour illustrations. The recommended retail price is $45 (+ postage). The book can be ordered via Col Hutchinson at Col.Hutchinson@afl.com.au or Mark Pennings at m.pennings@qut.edu.au..



Volume 1 is also available and can be secured from Col Hutchinson or Mark Pennings. The price is $35.
Thursday, August 28
Robbie Gray takes out AFL Coaches award
Port Adelaide midfielder Robbie Gray says winning the AFL Coaches Association's champion player award is a reward for his most consistent season.

ABC Sport reports: Gray has polled 102 votes and holds an unassailable lead with one round remaining – he is seven votes ahead of suspended Fremantle midfielder Nat Fyfe, with Sydney on-baller Josh Kennedy third on 83 votes.

Gray, an all-time draft steal when taken with pick number 55 in the 2006 national draft, is averaging almost 25 disposals a game this season.

The 26-year-old has kicked 32 goals and also leads the competition for goal assists.

The award is decided by all senior coaches, who each cast votes on a five to one basis after every game – the leaderboard –

102 – Robbie Gray (Port Adelaide)
95 – Nathan Fyfe (Fremantle)
83 – Josh Kennedy (Sydney)
80 – Lance Franklin (Sydney)
72 – Gary Ablett (Gold Coast)
72 – Scott Pendlebury (Collingwood)
72 – Matthew Priddis (West Coast)
68 – Dyson Heppell (Essendon)
65 – Luke Parker (Sydney)
64 – Joel Selwood (Geelong)
Thursday, August 29
Magpies get memorabilia windfall
A mystery benefactor has donated $1.5 million worth of memorabilia to Collingwood – a collection that includes the 1972 Brownlow Medal the late Len Thompson sold for his children's sake.

Jake Niall revealed in The Age on Tuesday: The benefactor has given Collingwood what the Magpies say is the most extensive private collection of its type they have seen. It contains material from other clubs, as well as a vast amount of Collingwood items.

Collingwood is hoping to eventually have the Collingwood-specific donated items form part of a museum-like display at the club. The club's head of venue operations and community, David Emerson, said the donor, who insisted on remaining anonymous, is a passionate long-time Collingwood supporter and collector who also wanted the donation to support the charitable Collingwood Foundation and its Magpie Nest program for homelessness.

"That's his motivation," Mr Emerson said. "It's an extraordinary gesture."

He said the collection had been valued to be worth about $1.5 million by an expert. The Collingwood portion of the collection includes Thompson's 1972 Brownlow and two of his Copeland medals for the club best and fairest, as well as a 1910 premiership cap – which each premiership player received back then – plus a 1958 premiership trophy, which commemorated the 100th anniversary of Australian football.

The Collingwood collection also has a premiership medal from 1935, and one from 1896, when the Magpies won the last VFA flag before joining seven other clubs to form the VFL, plus a range of other heritage material – more ...
Wednesday, August 27
Ex-Geelong player sues surgeon and club doctor
Former key defender Matthew Egan is suing a surgeon and the Geelong club doctor over a foot injury that caused him to miss out on the 2007 grand final victory over Port Adelaide and ended his football career.

Yahoo! Sport carried the AAP report: The Geelong All-Australian defender broke a navicular bone in his (right) foot in the final home-and-away round of 2007 against Brisbane (ref: Diary, September 4, 2007).

The injury ended his playing career and caused him to miss the Cats' first premiership in 44 years.

The 31-year-old is suing his treating orthopaedic surgeon Mark Blackney and Geelong's sports medicine physician Dr Chris Bradshaw, for failing to give him appropriate care and advice for his injury.

Mr Egan had surgery and rehabilitation under Mr Blackney's supervision for the fracture with a view to it enabling him to play in the grand final against Port Adelaide, according to court documents.

But he suffered pain during rehabilitation and was told he would not be available to play.

In a statement of claim lodged in the Victorian Supreme Court on Tuesday, Mr Egan alleges both medical professionals failed to discuss with him the treatment options available for his fracture, the surgery risks and the fact there was "virtually no prospect" of him playing in the grand final.

Mr Egan says in the writ that since the surgery and rehabilitation, he has been unable to return to playing AFL football, was delisted from the club's playing list in 2010 and has undergone six further operations.

He is suing for injury, loss and damage, saying he now has restricted movement in his right ankle, scarring and continuing pain.

The writ says Mr Egan brings no claim for loss of earnings or loss of earning capacity.

Mr Egan remained on Geelong's list until 2010 but did not add to his career tally of 59 games.

Mr Egan is a current Essendon assistant coach.
Tuesday, August 26

12-point margins – winners and the losers
We've dwelt on Geelong's freakish run of narrow escapes this season, but not the other side of the coin.

Adelaide is likely to miss the finals, and like North Melbourne last season, can point to a poor record in 12-point finishes. The Crows are 1-6 this season. The six losses are consecutive.

Rd 6 — WB 12.11-83 v Ade 13.14-92 – WON 9 points
Rd 7 — Ade 9.13-67 v Mel 11.4-70
–
LOST 3 points
Rd 10 – Car 12.9-81 v Ade 10.16-76
–
LOST 5 points
Rd 14 – Ess 15.11-101 v Ade 14.8-92
–
LOST 9 points
Rd 17 – Ade 14.8-92 v Haw 15.14-104
–
LOST 12 points
Rd 21 – Ade 9.15-69 v Rch 10.19-79
–
LOST 10 points
Rd 22 – NM 14.17-101 v Ade 13.16-94
–
LOST 7 points

Carlton is 2-6 in 12-point finishes (the last five losses have been consecutive). If the Blues had done what Geelong has, they would be in the finals!

Rd 2 — Car 12.14-86 v Rch 14.14-98
–
LOST 12 points
Rd 6 — Car 14.8-92 v WCE 12.17-89
–
WON 3 points
Rd 10 – Car 12.9-81 v Ade 10.16-76
–
WON 5 points
Rd 11 – Bri 14.14-98 v Car 13.13-91
–
LOST 7 points
Rd 12 – Car 15.12-102 v Gee 16.11-107
–
LOST 5 points
Rd 14 – GWS 15.10-100 v Car 14.8-92
–
LOST 8 points
Rd 19 – Fre 12.11-83 v Car 11.12-78
–
LOST 5 points
Rd 21 – Car 11.10-76 v Gee 11.16-82
–
LOST 6 points
Tuesday, August 26
MRP: Round 22 –
Nathan Jones ump-bump, fined
Five incidents reviewed with no further action
WEST COAST v MELBOURNE
NATHAN JONES (Mel) charged with a first offence of making reckless contact with umpire MATTHEW LEPPARD in Q3.
Jones took the early guilty plea drawing a $1950 fine – a 25% reduction of the penalty of $2600.


Other incidents assessed –


Contact between MARC MURPHY (Car) and TRAVIS BOAK (PA) in Q1. From available evidence and a PAFC medical report the force used was below that required for a reportable offence – no further action.


Contact between BRYCE GIBBS (Car) and ROBBIE GRAY (PA) in Q2. The force used was below that required for a reportable offence – no further action.


Contact between JOEL SELWOOD (Gee) and JARRYD ROUGHEAD (Haw) in Q2. The force used in the high contact after the tackle was below that required for a reportable offence – no further action.


Contact between LANCE FRANKLIN (Syd) and JACKSON MACRAE (WB) in Q3. The MRP found that Franklin's actions were a legitimate attempt to tackle and the force used was below that required for a reportable offence – no further action.


Contact between NATHAN GORDON (Rch) and CAM SHENTON (StK) in Q3. The force used was below that required for a reportable offence – no further action.

Tribunal – 2014
Tuesday, August 26
Hird completes his suspension
James Hird has returned to work with Essendon on Monday morning, adding his voice to the club chorus wanting caretaker coach Mark Thompson to stay on for the 2015 season.

Hird's 12-month AFL-imposed ban for his role in the Bombers' controversial supplements program ended on Monday.

The Herald Sun noted: Hird was given a tour of the club's new Tullamarine headquarters by chief executive Xavier Campbell and head of coaching Neil Craig — when he was banished the Bombers were still at Windy Hill — and Campbell reiterated Hird's focus would be "exclusively on 2015".
Tuesday, August 26
Man evicted from Docklands for racial slurs
Victorian police are reportedly investigating alleged racial slurs directed towards Sydney Swans players, including star Lance Franklin, during Sunday's match against the Western Bulldogs at Docklands.

ABC Sport noted that News Corp had reported a 70-year old man was evicted from the stadium during the match after nearby supporters complained about racist remarks, and it is understood the AFL, Western Bulldogs and police are looking into the incident.

Witnesses have allegedly reported the word "ape" was directed towards Franklin, while the spectator in question was issued with a penalty notice by police at the ground.

"The behaviour of the man was reported to police by other supporters in the stadium," a police spokesperson said.

"The 70-year-old Newport man will receive a penalty notice in relation to offensive behaviour.

"Police have spoken to representatives from the Sydney Swans Football Club and have been advised the comments were not heard by any players."
Tuesday
, August 26
AFL-NAB Rising Star, Round 22
Matt Taberner (Fremantle)
Fremantle's Matt Taberner can now add another notch to his emerging career after winning the round 22 NAB AFL Rising Star nomination.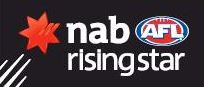 Callum Twomey noted on the AFL webpage: The tall forward gathered 22 possessions and kicked a goal in the Dockers' win over the Brisbane Lions on Sunday, which came just a week after he returned to the club's forward group.

The 21-year-old, who has played 10 games in two seasons with Fremantle, was pleased with the recognition for his breakout game.

After four games in his debut season last year, senior opportunities have arisen for the former rookie this season with the long-term absence of Scott Gumbleton and Kepler Bradley, who recently announced his retirement.

The 197cm prospect played four games earlier this season before returning to the side in round 21 for the Dockers' win over Hawthorn, where he took six marks and kicked a goal. It led to an even better showing against the Lions.

Martin Windsor-Black notes:

Matt is the first Rising Star nominee from a Western Australian club for over 3 years

This is rather astounding for a national competition where all of the last 71 nominations have come from the Central and Eastern states.

Fremantle's last Rising Star nomination was Zac Clarke in Round 20 of 2011 (and Anthony Morabito in Round 2 2010 before him).

West Coast's last Rising Star nomination was Andrew Gaff in Round 19 of 2011 and now remains the only club not to have had a nomination in 2013 or 2014.

AFL-NAB Rising Star award ... more
Friday, August 8
Hobart Council backs AFL games with $600,000
Hobart City Council last night voted to provide $300,000 a year for the next two years for three North Melbourne games per year at Blundstone Arena. The motion passed 10-2.

Jessica Howard of The Mercury in Hobart reported: Alderman Marti Zucco said the new deal was also a way of council putting everyone on notice that in two years' time others will need to "come to the party".

"The Hawthorn deal costs $900,000 a game — the NM deal costs $600,000 a game," he said.

"That is why it is imperative that this council continue its support for the next two years so that when it comes in line with the Hawthorn deal the State Government will be the one that will have to sit down and be the leader in endeavouring to bring as many AFL games into this state."

The next AFL games will be played at a fully redeveloped Bellerive Oval with an increased capacity of about 20,000.

Destination Southern Tasmania commended the council commitment to sponsoring AFL games and said research into the impact of past AFL games revealed positive tourism benefits including increased occupancy rates for the majority of Hobart hoteliers.
Friday, August 22
AFL Appeals Board
Fyfe appeal dismissed
Fremantle failed in their second attempt to reduce Nat Fyfe's two-week suspension for striking.

Justin Chadwick for Yahoo! Sport reported: Fyfe struck Hawthorn midfielder Jordan Lewis in the opening minutes of the Dockers' AFL win on Sunday night.

An AFL Tribunal made short work of Fyfe's appearance on Tuesday night, and the AFL Appeals Board which was made up of chairman Peter O'Callaghan QC, Brian Bourke and Shaun Ryan, took just seven minutes on Thursday night to throw out the appeal.

Counsel for Fyfe, Stuart Morris, brought the appeal on the basis that an error in law had been made, arguing tribunal chair Ross Howie directed the jury to find Fyfe guilty.

Fyfe attempted to clarify his guilty plea as one of "recklessly striking" rather than the more serious "intentionally striking", however the panel, led by Peter O'Callaghan QC found there was no grounds for an appeal.
Friday, August 22

Heppell has surgery to left hand


Essendon gun Dyson Heppell has undergone surgery to fix a left hand injury and will miss Saturday's AFL clash with Gold Coast.
Yahoo! Sport reported: Heppell, the Bombers' best player this season, broke a bone in his hand at training on Wednesday morning.
Club doctor Bruce Reid was able to book the gifted 22-year-old in for hastily arranged surgery, adding that Heppell would not spend too long on the sidelines.
Police charge Garlett


Carlton's Jeff Garlett has been charged with affray and has been bailed to appear in Melbourne Magistrates' Court in November, the Blues announced late on Wednesday night.
Garlett and teammate Mitch Robinson were involved in an early-morning incident in Melbourne on August 3.
The two players were involved in a brawl. Both then lied about Robinson's involvement in the incident.
Carlton fined Robinson $5000 and the midfielder was ruled out for the rest of the season with a fractured eye socket suffered in the brawl.
McGrath and Bradley retire


Tough utility Ashley McGrath, the last remaining link to the Brisbane Lions' 2001-03 triple premiership era, will play his last AFL match on Sunday against Fremantle.
McGrath announced his impending retirement on Thursday, ending a career spanning 214 games and 14 seasons.
The West Australian made his senior debut in 2001 and was a member of Brisbane's 2003 premiership team.



A debilitating knee reconstruction means Fremantle utility Kepler Bradley will retire at the end of the season.
Bradley was drafted by Essendon with pick No.6 in the 2003 national draft, managing a total of 117 games spread across the next 10 seasons.
The 28-year-old joined the Dockers for the 2008 season, but ruptured the anterior cruciate ligament (ACL) in his right knee during round five last year.
Bradley returned to the WAFL this season but has been unable to earn a recall to Ross Lyon's side, with his body saying enough is enough.
MCG to be re-turfed after grand final


The MCG will use its month-long break after the grand final to undertake its biggest turf overhaul in a decade, ahead of hosting next year's cricket World Cup final.
The Age reports the venue's entire surface, almost 20,000 square metres, will be torn up two days after the AFL grand final, which this year falls on September 27. Once all the turf has been removed – it is estimated that will fill about 150 truck-and-trailer loads — the base will be flattened in preparation for the installation of the new turf, which has been growing in central Victoria since January.
Saints stay with Sandringham


St Kilda have signed on with current VFL affiliate Sandringham for another year, which extends their agreement to an eighth season.
Jennifer Phelan for the AFL webpage reports: The Saints had planned to play a standalone team out of Moorabbin when their previous deal with the Zebras finished at the end of 2015.
But the Moorabbin redevelopment is not expected to be complete before the start of the 2016 season, which means the Saints will align with the Zebras until at least the end of that season.
Sandringham's home ground and St Kilda's best and fairest award are both named after the late Trevor Barker, who played 230 games for the Saints.
Barker also coached the Zebras to VFA premierships in 1992 and 1994.
Friday, August 22

MCG is the drawcard – part 2
Further to the nine match-ups analysed yesterday, here is a break-up of the crowd sizes for the period 2005-current:

<50,000

50-
60,000
60-
70,000
70-
80,000
80-
90,000

>

90,000

Col v Gee

1

1

4

2

6*

3*

Col v Ess

0

4

4

3

4

**

5*

*

Car v Col

2

3

2

5

8

0

Col v Haw

2

3

2

6

4*

0

Gee v Haw

4#

0

7

3

4*

1*

Ess v Rch

4

4

4

2

4

0

Car v Ess

4##

5

3

5

2

1*

Col v Rch

1

3

4

2

1

0

Car v Rch

4

5

3

4

2

1*
* includes finals
** all are Anzac Day matches
# all 2005-07 when matches scheduled at York Park, Kardinia Park, etc
## all 2005-07 when both teams were poorly performed.

Finally, some further data that may be of interest:
Col v Gee

Last 15 matches have drawn 50,000+. Last <50,000 was Rd 11, 2005 at Docklands

Col v Ess

Lowest crowd Rd 16, 2005, 52,507. Lowest Anzac Day crowd 2005, 70,035.Both teams were poorly performed that season. Last <50,000 Rd 2, 1991 at Waverley

Car v Col

Remarkable when Carlton was poor till 2008, and they have not met in a final

Col v Haw

Last <50,000 crowd was Rd 2, 2006 at Docklands.
15 consecutive crowds >50,000

Gee v Haw

Since 2007, 15 matches played; lowest crowd has been 63,476

Ess v Rch

Top crowd 88,468 Rd 21, 2007, the Kevin Sheedy-James Hird farewell

Car v Ess

Last <50,000 crowd was Rd 20, 2007, 48,638. Top H/A crowd 83,407, Rd 13, 2009

Col v Rch

Last <50,000 crowd was Rd 19, 2007, 49,550. Top crowd 81,950, Rd 4, 2013

Car v Rch

Top H/A crowd 87,403, Rd 1, 2009
<>

Worth attention ...
Key news web sites to follow ...
AFL.com.au – more ...
The Age, Real Footy – more ...
Herald Sun – more ...
Yahoo! Sport – more ...
---
Worth attention:



AFL Tables, the ultimate in footy facts – more


Rogers amazing AFL footy facts – more ...


The authorative VFA history 1877-1995 – more ...


Draw 2014 – more ...



Bruce Kennedy – Perspective – more


Charles Boyles amazing photo collection – more


Management of Concussion in football – more ...


Laws of the Game charter – more ...



Worth repeating – more – key articles of 2014 interest
---